Point Pleasant Resort: Area Guide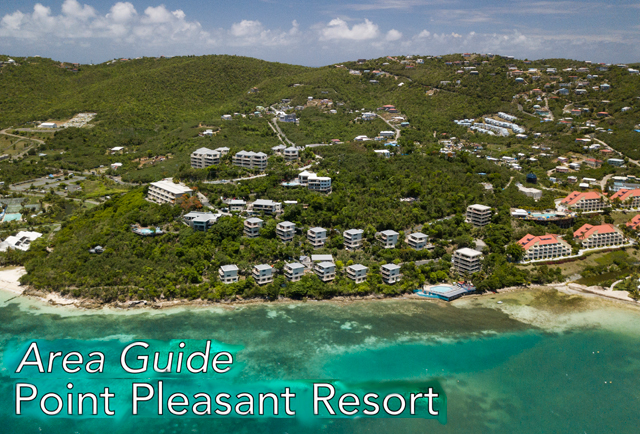 With incredible views, beautiful villas, on-site beaches, and fantastic amenities, guests of Point Pleasant Resort will see why we're rated #1 of St. Thomas East End Hotels. Point Pleasant Resort offers three pools, three St. Thomas beaches in walking distance, and watersport rentals on site. Our restaurant serves breakfast, lunch, and dinner, and our on-site spa offers services and fitness classes. We've put together a guide of area attractions to make the most of your St. Thomas vacation with us at Point Pleasant Resort:
Red Hook- The Red Hook area of St. Thomas features conveniences, shops, and dining! If you're in need of services, Red Hook includes a drug store, doctor's office, postal service, and convenience store. Red Hook has St. Thomas souvenir stores and lunch spots during the day, but it's best known for dining after dark. Red Hook is one of the few areas on island that comes alive at night, and it's the most popular for bar hopping and late nights. Evening dining is perfect for families and the area is safe for night owls. Red Hook is also home to the main ferry terminal in St. Thomas which provides service to St. John and the British Virgin Islands.
East End Beaches- East End beaches are among the best beaches in St. Thomas. Coki Beach is also walkable from our property if you're looking for a stroll, and it's equipped with watersport rentals, beachside dining options, and great St. Thomas snorkeling. Lindquist Beach (Smith Bay Park) is an undeveloped beach that is preserved by the Magens Bay Authority, providing a true oasis with spectacular views of St. John. Sapphire Beach features facilities, rentals, and beachside food and drink service, not to mention the beautiful blue water for which it's named and abundant coral and marine life for snorkeling. Point Pleasant guests can experience all of these top St. Thomas beaches with a short drive.
Magens Bay- Known as one of the top 10 beaches in the world and the most well-known beach in the Virgin Islands, you will want to find out what all the fuss is about and make the journey to this mile long piece of paradise. In addition to soft sand and calm, crystal waters, Magens Bay features facilities, rentals, picnic benches, shops, and a waterfront bar and restaurant. Magens Bay is the true picture of a Caribbean beach escape, and we're happy to ensure our guests experience the best of St. Thomas.
Things to Do- Through our activity and transportation booking service, CaribbaConnect, you can experience all the top things to do in St. Thomas with just one click. Visit our booking site to hit the many attractions and excursions available for Point Pleasant Resort St Thomas guests.


Private Transportation- Save yourself from the hassles associated with shared airport transfers such as waiting for the airport taxis to fill up, crowded vehicles, and multiple stops to get to your destination. Delight in a seamless island arrival with affordable, convenient, and friendly airport transportation that begins with a personal driver waiting for you at baggage claim. Non-stop direct transfers are available from the St. Thomas airport right to Point Pleasant Resort, and a stop at the market or convenience store is available upon request. Behold the superior experience of personalized service with our Private Airport Transportation.


Sightseeing- Island tours pick up right from Point Pleasant Resort and are a must for experiencing top St. Thomas attractions. Hit the highlights of island views and photo ops on a St. Thomas Sightseeing Tour or Private Sightseeing Tour. Check out our Local Guide to Exploring St. Thomas for all the ways to see the top sites in St. Thomas.
Dining- Our on-site restaurant, The Shoreline Bar and Grille, serves breakfast, lunch, and dinner. Shoreline also offers an extensive specialty cocktail menu including frozen drinks, martinis, shots, and beer and wine selections. If you're looking to venture out to one of the many dining areas on island, use our handy dining guides to help you choose the restaurant that's sure to hit the spot.
Getting the most out of your St. Thomas vacation should come naturally, and at Point Pleasant Resort, our convenient location and personalized service make it easy to experience the highlights of St. Thomas. We know you'll love our island, and we can't wait to welcome you home with us at Point Pleasant St Thomas.
Anthony Lewis
Front Desk & Activities Manager
Point Pleasant Resort

CaribbaConnect Mentioned Excursions:
Full Day Sail to Jost Van Dyke
Mangrove Lagoon and Cas Cay Kayak, Hike, and Snorkel Ecotour
Public Shopping and Sightseeing Tour