St Thomas Weddings: The Perfect Destination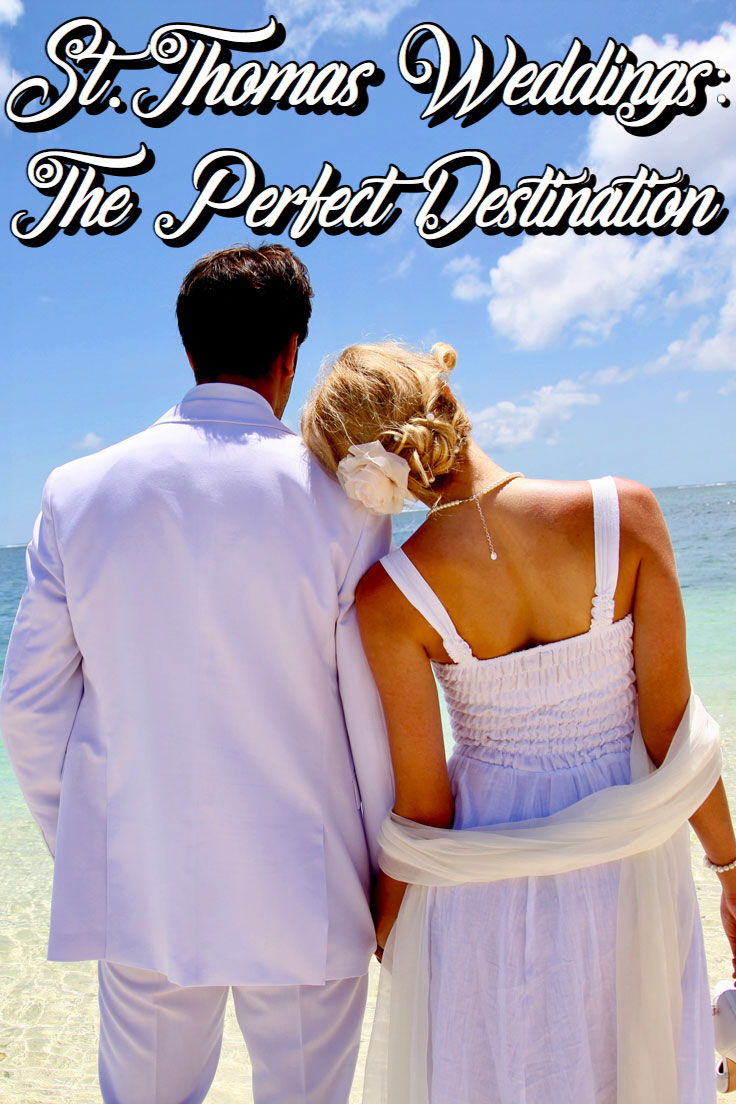 There's a reason why you've chosen to have your wedding in paradise. Where it's a beautiful beach background, a romantic sunset scene, or just the free spirited ambiance that comes with being on a tropical island, you know a destination wedding is your perfect day! When it comes to having a destination wedding, St Thomas takes the cake! There's even more to this island than world class beaches and breathtaking views, there's so much for you and your new spouse and all of your beloved wedding guests to see and experience to make your St Thomas wedding more than just a lovely ceremony but an unforgettable holiday!
Why Have A St Thomas Wedding?- St. Thomas is fully equipped with every bit of tropical paradise that you can imagine plus some! World class beaches? Check! Crystal clear seas? Amazing island views? Stunning sunsets? "Island time" feeling everywhere you go? Check, check, check, and check! But there's even more to St. Thomas that makes it an ideal wedding destination. As a US territory, your loved ones won't have to worry about the hassle of getting a passport to attend, and as St. Thomas is considered a domestic flight, rates tend to be more affordable and routes more direct. With so many nearby islands, a St Thomas destination wedding even provides the perfect honeymoon transition. Stay in St. Thomas, soak up all the fun and romantic things to do like filling your days with all inclusive sails and private charters to secluded beaches and cays, or hop on over to St. John or the British Virgin Islands for an extended stay with a brand new set of island experiences!
Where Can You Have Weddings in St Thomas?- Whether you're dreaming of a simple beachside ceremony or an elegant affair at a luxury resort, St Thomas has the perfect setting for you. In St. Thomas, you can have your wedding at famous Magens Bay beach or at the picturesque rocky point at Sapphire Beach. If a decadent theme and deliciously catered celebration is more your style, the Marriott St Thomas wedding planners can arrange your ideal event. If "over the top", "wow", and "extravagant" are words you would use to describe your special day, perhaps a Ritz Carlton St Thomas wedding is right up your alley. Get married at sea or say "I do" at sunset, in St Thomas, the sky's the limit on where you can have your wedding that is uniquely you!
What Services are Available for A St Thomas Destination Wedding? - Caterers, florists, coordinators, professional photographers, St. Thomas destination weddings are so easy to plan as the island is equipped with all the services needed for your perfect wedding. You can even arrange for Private Transportation for you and your guests direct from the airport to your lodging, and if you're looking for extensive private transportation throughout your visit, you can Contact Us at CaribbaConnect. Our local experts will be happy to customize private transportation options and arrange the best excursions St. Thomas has to offer for you and your wedding party, so you can avoid the hassle of taxi services and endless phone calls to arrange activities. You'll find a friendly local you can trust to answer any of your questions about the island at CaribbaConnect!
Top Things to Do for St Thomas Destination Weddings- There are many reasons why people choose to get married in paradise, but there are many things that set St. Thomas apart which is why so many have chosen this island over the rest for their weddings. St. Thomas has so much to do! Parasailing, kayak tours, island hopping charters, diving and snorkeling encounters, and more- it's all here in St. Thomas! These Top Things to Do in St Thomas are what memories are made of! Thrilling excursions and shared experiences are what will make your wedding the trip of a lifetime that your friends and family will look back on for years to come! After your dream wedding, St Thomas even has plenty of intimate excursions, romantic adventures, and amazing things to do on your St Thomas Honeymoon!
There's nothing quite as beautiful as a wedding in paradise. Planning a destination wedding can be a stressful and intimidating process, but having a local service you can trust to provide insight on the island can make all the difference! At CaribbaConnect, we want all your wedding dreams to come true, and we're always here to help! Be sure to check out our Locals Guide to St. Thomas Excursions for more information about excursions in St. Thomas, and visit our Excursions page to book the best excursions on St. Thomas! If you have any questions about St Thomas Weddings or any inquiries about the islands, call or e-mail us for authentic local insight!
Say "I Do" to St Thomas,
Megan