St Thomas Honeymoon : Things to Do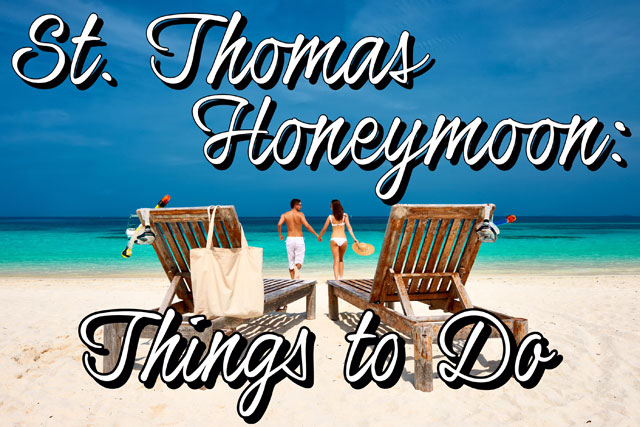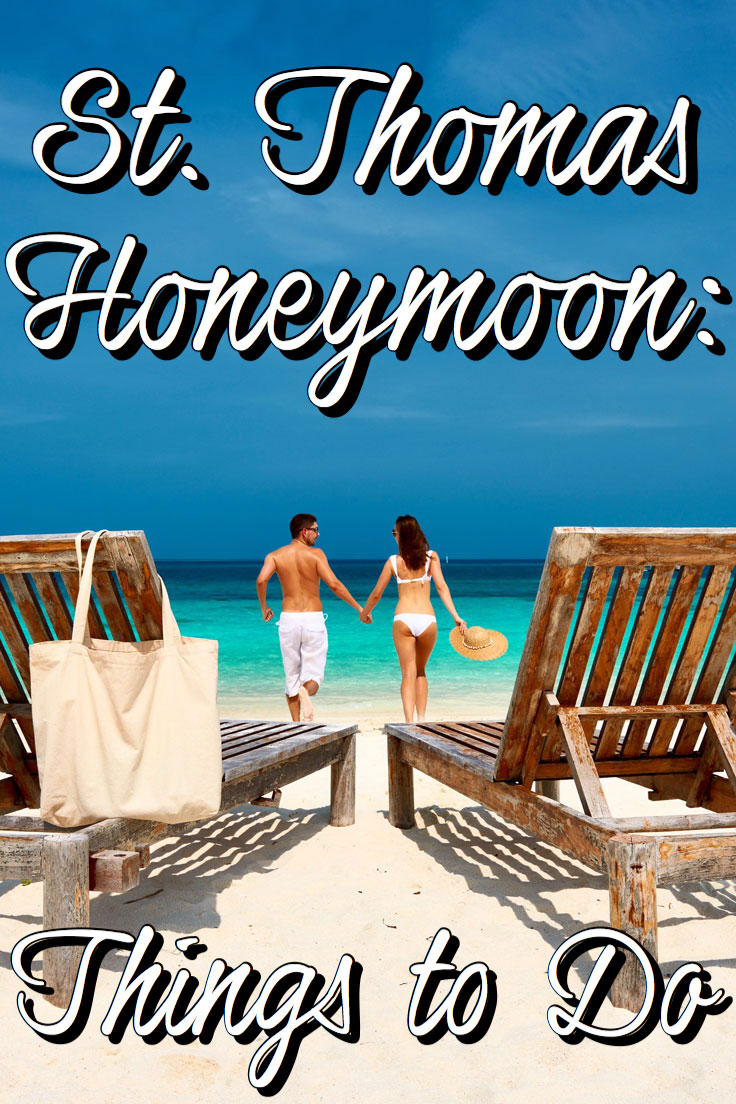 With passport free access to world class beaches, stunning sunsets, and perfect paradise scenery, St. Thomas is the ideal destination for your honeymoon! I know how stressful the months of planning your wedding can be, so when it comes to your St Thomas honeymoon, let CaribbaConnect make it easy! CaribbaConnect selects only the best island excursions, so you are guaranteed to have an incredible experience on your honeymoon in St Thomas. Whether you're an adventurous couple or are just looking to soak up some Caribbean sun, CaribbaConnect has the perfect excursions to start your life off together just right! All you have to do is choose your couple's style and click your way to a personalized, unforgettable St Thomas honeymoon!
St Thomas Honeymoon for Beach Bums
After months of stressing about every tiny detail of your wedding, all you need on your St Thomas honeymoon is a frozen cocktail, warm sunshine, and the sparkling Caribbean sea! These excursions are perfect for couples looking for a side of fun with your large serving of "us time" at the beach:
Private Beach Hopping Private Tour - Skip the researching, island maps, and taxis. Let your friendly personal driver take you in a private vehicle to the best beaches in St. Thomas without you having to lift a finger! Want a great beach bar? Looking to try out some watersports? Hoping to swim with some tropical fish? You perfect beach day is customized to your desires!
Half Day Sail & Snorkel with Lunch - It's only fitting that you visit Honeymoon Beach on your honeymoon! St Thomas' sister of island of St John is just a short sail away to enjoy this breathtaking beach. Spend a perfect 4 hours of bliss taking in island views, soaking up the sun, and enjoying an included onboard lunch and very open bar on this relaxing barefoot sail. If you feel like moving a muscle, throw in a little adventure and get up close with sea life and coral reefs with the complimentary snorkel gear!
Sightseeing and Beach Tour - Take those postcard perfect honeymoon pics as you hit all the best sightseeing spots in St. Thomas! Visit the highest point of the island at Mountain Top, home of panoramic island views and their world famous banana daiquiri. Then spend your afternoon soaking up some sun and rum in the turquoise waters of one of the top beaches in St. Thomas!
Kayak and Sea Turtle Snorkel Tour - Looking to get a bit more out of your beach time? This low maintenance kayak tour features fantastic island photo ops, a beach break, included lunch, and of course, an unforgettable snorkeling encounter with sea turtles that's sure to be the highlight of your honeymoon!
St Thomas Honeymoon for Adventurers
You've just embarked on the greatest adventure of your life! You want to start your marriage off with thrilling excursions and exotic encounters to share stories of for years to come! These adventurous St Thomas honeymoon excursions are just what you're searching for:
Night Kayak - Dare to explore the seas after dark on a kayak trip amongst a stunning starry sky. Cuddle in close as you listen to chilling ghost tales and pirate lore along the eerie hanging trees and dark waters of the St. Thomas mangrove lagoon!
Mangrove Lagoon and Cas Cay Ecotour - Hike, kayak, and snorkel together through the unique St. Thomas mangrove lagoon full of rare saltwater filtering mangrove trees. Discover the amazing snorkeling sights found among their roots. Encounter breathtaking views and natural beauty on the uninhabited island of Cas Cay which you can only experience on this adventurous excursion!
Parasailing - Experience St. Thomas from 350-feet in the air with spectacular views all the way down the island chain on the ultimate thrilling excursion for two combing powerboating, parachuting, ballooning, and gliding all in one!
Private Full Day Boat Charter - Visit the magnificent Baths at Virgin Gorda. Discover the incredible snorkeling sights at the Indians and Caves off Norman Island. Hit remote beaches and deserted islands you can only reach by boat. Experience one of the top day trips from St. Thomas for 2 on a private powerboat adventure!
Discover Diving Conquer a new world together, under the sea! You and your new spouse can try diving for the first time and get up close with tropical fish and sea life at the thriving reefs off Coki Beach. If you develop a love for underwater adventures, you will even earn credit towards certification for a lifetime of exploring the seas together!
Bird Island Sunset Kayak - If you prefer a little romance with your adventure, this kayak tour is the perfect blend. Settle into your two person kayak and paddle through tranquil waters to Bird Island against a sunset lit sky. Connect with nature in a unique way as you bird watch and learn all about the mangrove lagoon and the wildlife that call it home.
St Thomas Honeymoon for Travellers
You and your new spouse are all about travelling! Your bucket list is long, and you're anxious to mark your map with all the new places you've been and cultures you've experienced together. It all starts on your honeymoon in St Thomas! These excursions are perfect for couples who want to immerse themselves in island life and check a few more destinations off your list:
St Thomas Food Tour : Historic Main Street - If an authentic local experience is what you're looking for, this is it! Taste your way through the unique history and culture of St. Thomas as you're guided by a local expert through the historic streets of Downtown Charlotte Amalie to hidden gems where you'll sample and learn about the delights of Caribbean cuisine.
Day Sail to St John - Set sail from St. Thomas to our beautiful sister island of St. John for a relaxing day at sea! Soak up the sun and sea breeze as you take in breathtaking island views with your hunny. With included breakfast, lunch, open bar, and everything needed to enjoy the water from snorkeling gear to float mats, it's the perfect low-maintenance way to check an island off your list!
Day Sail to Jost Van Dyke - Get your passports stamped in the British Virgin Islands! Set sail on a full day of amazing views, island music, a picture perfect BVI beach, and a very open bar! There's always a good time to be found in Jost Van Dyke!
Private Sail to Jost Van Dyke - Enjoy a full day private sail for 2 to the British Virgin Islands with included breakfast and premium open bar! Sail away on an intimate day at sea full of fresh cocktails, lounging on deck, and soaking up the Caribbean Sea at beautiful White Bay in Jost Van Dyke!
All-Inclusive Private Day Sail - Experience remote cays and top snorkeling spots on this private sail through the USVI destinations of your choice! Sip from the premium open bar and savor a shrimp and lobster boil at sea on a 37ft sailboat stocked with amenities for just the 2 of you!
Shopping, Sightseeing, and Beach Tour Sample the best of St Thomas as you learn about the history and culture of the island on this locally guided tour! Treat yourselves to something special with tax and duty free shopping, snap perfect pics of the best island views at the top lookout points, and spend the afternoon relaxing at one of the best beaches in St. Thomas!
Private Full Day Boat Charter - Cruise on down the British Virgin Islands all the way to the exotic Baths at Virgin Gorda, explore the many uninhabited islands and cays of the USVI, or visit anywhere in between! Customize your 8 hour itinerary to perfectly suit the two of you for a full day of island hopping, secluded beach stops, and snorkeling adventures!
St Thomas Honeymoon for Romantics
Stunning island views, firelit Caribbean sunsets, and sparkling turquoise waters, St. Thomas sets the stage for the perfect honeymoon setting! If intimate moments and beautiful settings is what you and your new mate have in mind for your St. Thomas honeymoon, these excursions are sure to set the mood:
Private All-Inclusive Sail with Sunset - Make your St. Thomas honeymoon truly unforgettable on a romantic afternoon sail complete with snorkel gear to explore secluded spots, onboard lounges to take in amazing island views, a delicious shrimp and lobster dinner, a premium open bar, and of course the perfect setting for a breathtaking sunset on your private 37ft sailboat!
Private Sightseeing Tour - See all the beauty of St. Thomas snuggled up with your spouse in a private vehicle with a personal driver where you customize the itinerary to your desires!
Sunset Cocktail Sail - Sail away for an evening of perfect Caribbean breezes, endless cocktails and hors d'oeuvres, and a blazing sunset as your background on one of the most romantic excursions on St. Thomas!
Private Half-Day Sail with Sunset - Sail off into the sunset on 37ft sailboat for just the two of you including: an afternoon at beautiful Christmas Cove, a premium open bar, friendly crew ready to capture your photo ops, and the main event, a breathtaking St. Thomas sunset from the best seat in the house!
Since my husband and I moved to the island, every day has been a romantic adventure, and I can't think of a better place for you and your spouse to start your life together. No matter your couple's style, the beauty of the Virgin Islands is sure to make your honeymoon in St. Thomas an unforgettable trip that will give you a lifetime of memories to share!
Be sure to check out our blog article on the Top 10 Things to Do in St Thomas for more information about things to do on your honeymoon in St. Thomas, and visit our Excursions page for all the best excursions on St. Thomas! If you have any questions about things to do on your St. Thomas honeymoon or any inquiries about the island, call or e-mail us for authentic local insight!
Wishing You A Lifetime of Paradise,
Megan
CaribbaConnect Mentioned Excursions:

Half-Day Sail & Snorkel With Lunch
Kayak and Sea Turtle Snorkel Tour
Mangrove Lagoon and Cas Cay Ecotour
St Thomas Food Tour : Historic Main Street
All-Inclusive Private Day Sail
Shopping, Sightseeing, and Beach Tour
Private All-Inclusive Sail with Sunset