A Local's Guide to St. Thomas: Things to Do for Large Groups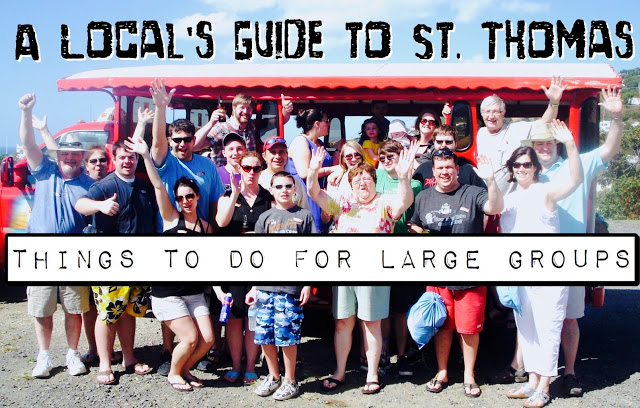 When my extended family travels together, finding outings to suit the whole family is always an interesting task. Adults, kids, adventurers, beach bums, you have to find something everyone will enjoy. Not all destinations can easily fit that bill. Lucky for your group, St. Thomas has a range of large group excursions that will not only accommodate everyone, they'll entertain and delight them too! I've got your local guide to the top things to do for large groups on your St. Thomas vacation, and you'll see just how easy it is to please your whole crew:
Private Island Tours- See the highlights of St. Thomas from the island views to the perfect Caribbean beaches with a private vehicle and friendly local driver. Private tours are customizable to the unique needs and desires of your Large Group with Sightseeing, Shopping, and Beach Hopping options, and your certified tour guide is always there to take those group photos!
Powerboat Charter- Spend a day on the water snorkeling, island hopping, taking in the island views, enjoying the open bar, or simply relaxing for the ride. This private power catamaran charter is sure to please everyone with included snorkel gear, complimentary drinks and snacks, and a fully customizable itinerary.
Full Day Private Power Catamaran Charter- Plan your charter itinerary for up to 32 passengers. Passport-ready travelers can take a ride down the British Virgin Islands to visit the Baths at Virgin Gorda, snorkel the Indians near Norman Island, or relax at White Bay in Jost Van Dyke. If everyone isn't carrying a passport, there's tons to see in the USVI. Hit the pristine beaches in St. John, snorkel the reef off uninhabited cays, or visit the Pizza Pi floating pizzeria. Include a little something for everyone with a full day at sea!


Sailing- With spacious decks, island music, complimentary snorkel gear, and a very open bar, Sailing is the perfect outing for your large group! Sails include safety gear, snorkel instruction, and shaded awnings to accommodate the kids in your group as well. Choose between half-day and full day adventures at sea to suit your unique group.
Ecotours- Take a group adventure as you explore the exotic St. Thomas mangrove lagoon. Venture through the lagoon in 2 person kayaks, and snorkel among the tropical fish and coral reef that flourish alongside the mangrove trees. Explore the uninhabited island of Cas Cay, home to a population of hermit crabs, rare tropical flora, and magnificent cliffs. Choose your combination of Kayaking, hiking, and Snorkeling through this unique ecosystem.
Kayak and Snorkel Mangrove Lagoon- Take a leisurely kayak trip through the exoctic St. Thomas mangrove lagoon where our group will spot seabirds in the trees and the marine life below the crystal clear waters. Get up close and personal with the tropical fish and coral reef that grows in this unique environment as you snorkel the lagoon. At 2.5 hours long, this kayak and snorkel tour is great for groups with young kids seeking an adventure!
Kayak, Hike and Snorkel Mangrove Lagoon and Cas Cay- Experience the natural wonders of kayaking through the mangrove lagoon to your destination at the small island of Cas Cay. Hike the wildlife preserve to it's fantastic viewpoints of St. Thomas and marvel at the geological blow hole at its volcanic cliffs. Then snorkel among the unique marine life and reef that thrives among the mangrove roots. This 3 hour tour is a ecoadventure for the whole group!
Kayak, Hike, and Snorkel Mangrove Lagoon and Cas Cay with Lunch- This 5 hour excursion through the mangrove lagoon is perfect for groups with older children and adults. Kayak through the unique landscape of the mangrove lagoon to Cas Cay. Hike the remote cay to its shell beaches and massive boulder cliffs for an included picnic lunch. Get extra snorkel time to explore the sea life in the salty Caribbean lagoon. It's a full day of exploration and rare wildlife encounters for the whole gang!


St. Thomas excursions make it easy to plan your entire group itinerary! Parents, grandparents, and kiddos are all sure to be pleased with the excitement that awaits on your St. Thomas vacation. Get ready for an unforgettable group vacation!
Be sure to check out our blog article on A Local's Guide to St. Thomas: Large Group Itineraries, and visit our Group Friendly Tours page to book the best large group excursions on St. Thomas! If you have any questions about things to do for large groups in St. Thomas or any inquiries about the island, call or e-mail us for authentic local insight!

Fun for Everyone,
Nishant

CaribbaConnect Mentioned Excursions:
Kayak and Snorkel Mangrove Lagoon
Kayak, Hike and Snorkel Mangrove Lagoon and Cas Cay
Kayak, Hike, and Snorkel Mangrove Lagoon and Cas Cay with Lunch
Full Day Private Power Catamaran Charter
Private Sightseeing and Shopping Tour