A Local's Guide to St. Thomas Sailing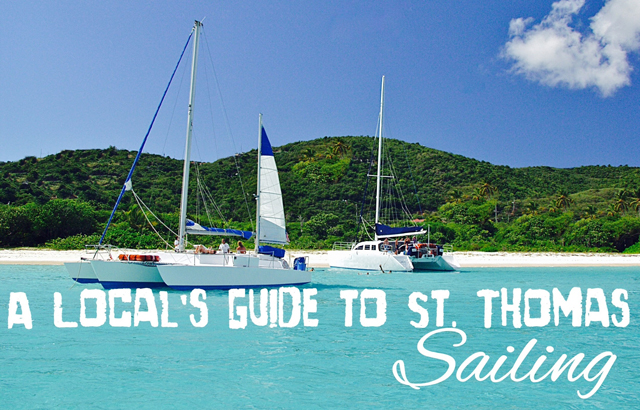 Looking for the top things to do on your St. Thomas vacation? Look no further. With neighboring islands always in view on the horizon, it's no surprise why St. Thomas is a sailor's paradise. This translates to an abundance of vessels and sailing itinerary options for you to choose from, not to mention the hopping party and open-bar that's a given with any St. Thomas sailing experience. Let me be your local guide to help you get started on those sailing plans for your St. Thomas vacation:
How to Go Sailing in St. Thomas- The obvious answer to "how" is with a sailboat of course, but which sailboat is the question at hand. I don't mean researching catamarans, but reading itineraries and inclusions will help you decide which St. Thomas Sail is for you. The first thing to check for is party size. How many people are sailing with you? Will this tour accomodate your group size? Then you should decide if you want the sail to be Private or to go out with a public group. Do you want a boat for just your party? Is it better for your budget to go with a group sail? Finally check the inclusions on the sail. What do you want to have on the boat? Safety gear is a given, but do you also need Snorkel gear? All sails have an open bar, but do you want a full lunch? Look for bonuses like a Caribbean lobster feast and premium bar on this St. Thomas Private All-Inclusive Full Day Sail or a visit to St. Thomas' famous pizza boat on a Private Full Day USVI Sail - Pizza Pi VI Lunch Stop. Checking off these items will help to narrow down the St. Thomas sailing itinerary that's right for you.
Where to Go Sailing in St. Thomas- Once you've selected some sailing itineraries, the where is next. The big question is: do all members of your party have an active passport? If the answer is yes, your destinations are open to include British Virgin Islands such as a Day Sail to Jost Van Dyke. If the answer is no, you will choose a sailing destination in the U.S. Virgin Islands. What's important to you in the destination? Do you want lots of St. Thomas Snorkeling stops or a beach to swim to? Sails around St. Thomas tend to offer multiple snorkeling stops as the destination is closer, whereas a sail to St. John may offer one snorkeling stop but a beach to swim to. Maybe your ideal destination is not a wet and wild experience but a romantic sail into the sunset. You may find you'd like to take more than one sailing trip on your visit to St. Thomas to experience multiple destinations.
When to Go Sailing in St. Thomas- Sails can be booked in a variety of time frames and durations. St. Thomas day sails are available in half-day and full day varieties. Half-day sails are around 3-4 hours, and full day sails are between 6-9 hours, depending on the destination. Most half-day sails will depart in the late morning/mid-day, but private sails offer more flexibility. A tip for day sails is to pack sunscreen and apply regularly or consider a rash guard for sensitive skin. St. Thomas Sunset Sails depart around 5pm, depending on the time of year, and last 1.5-2 hours. Consider your other St. Thomas plans and excursions to help you select departure times and durations that will make the most of your time.
There's nothing quite like sailing in the Caribbean, and the Virgin Islands is home to some of the best sailing destinations in the world. While sailing is all about a great day on the water, St. Thomas is well equipped with options for you to have your best day. Now you've got the basics down to plan the perfect sailing itinerary for you and your family on your St. Thomas vacation.
Be sure to check out our blog article on A Local's Guide to St. Thomas Boating and Sailing Destinations, and visit our Boating & Sailing page to book the best boating and sailing excursions on St. Thomas! If you have any questions about the best sailing and boating tours in St. Thomas or any inquiries about the island, call or e-mail us for authentic local insight!
Happy Sails,
Amit
CaribbaConnect Sailing Tours:
St. John Full Day Sailing Tours
Half-Day Snorkeling and Sailing Tours in St. Thomas
Private All-Inclusive Full Day Sail - U.S. Virgin Islands
Private Full Day USVI Sail with Sunset - Caribbean Lobster & Premium Open Bar
Private Full Day USVI Sail with Sunset - Pizza Pi VI Dinner Stop & Premium Open Bar
Private Full Day USVI Sail - Pizza Pi VI Lunch Stop & Premium Open Bar
Private Half Day Sail with Sunset Option - Pizza Pi VI Stop & Premium Open Bar
Sunset Cocktail Sailing Tours in St. Thomas
Full Day Sailing Tours to Jost Van Dyke, BVI