A Local's Guide to St. Thomas: Boat Rental Itineraries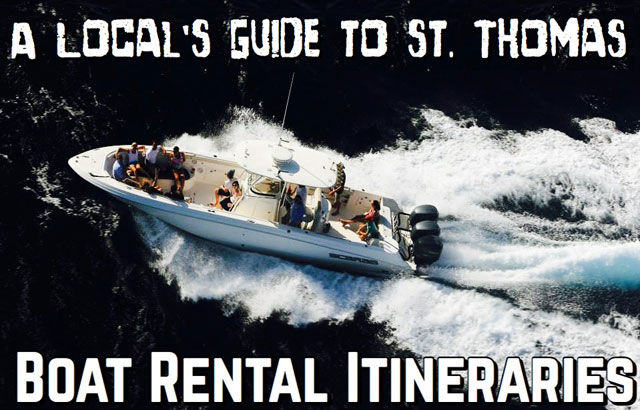 Your USVI Vacation is just around the corner, and you're ready to plan your upcoming island adventures. You've heard the many glowing reviews of St. Thomas Boat Rentals and how they're the best way to island hop throughout the U.S. and British Virgin Islands. You know you want to go, but you don't know exactly where. There are so many beaches, Snorkeling stops, and wondrous sights to behold. With a fully customizable itinerary, how do you choose your destinations? Location is the best way to plan your itinerary for maximum usage of your rental time. To save you the trouble of checking maps and routes, I've put together a local guide to the top BVI and USVI spots and some sample itineraries to simplify your planning process and maximize your day at sea.
British Virgin Islands Destinations- Incredible snorkeling spots, one-of-a-kind bars, and natural wonders, the British Virgin Islands are full of "don't miss" destinations. To explore the excitement that awaits in British waters, your group will need passports and cash for customs.
The Baths- A true natural wonder, the Baths at Virgin Gorda consists of massive boulders towering over the Caribbean Sea forming caves to to climb and explore and grottos full of unique coral and marine life.
Cooper Island- A beautiful secluded island featuring a beachfront restaurant for the perfect lunch spot and beach break on a BVI trip.
Normal Island- The Caves at Norman Island and The Indians just off the coast are some of the best snorkeling spots in the Virgin Islands, full of plentiful marine life, abundant coral, and unique rock formations.
Willy T- The famous floating bar and grill off the coast of Norman Island that's known its wild and crazy atmosphere.
Foxy's- A fun, open-air bar & grill located in downtown Jost Van Dyke featuring shopping, cocktails, Caribbean fare, and a view of the harbor.
White Bay- There's always a party going on at beautiful White Bay in Jost Van Dyke featuring a breathtaking beach and strip of beach huts with rentals, restaurants, and bars such as the famous Soggy Dollar Bar.
Sandy Spit- A breathtaking little cay off the coast of Jost Van Dyke that's secluded and picture-perfect, an island all to yourself!
Suggested BVI Itineraries-
Trek to Virgin Gorda- Discover why the journey to Virgin Gorda is worth the trek! Enjoy your morning journey passing through the picturesque island silhouettes of the US and British Virgin Islands. Your first stop is at the legendary Baths at Virgin Gorda where you will swim and snorkel among the incredible rock formationsand explore the mysterious caves at Devil's Bay. Then it's your choice for an afternoon of partying at Jost Van Dyke or more snorkeling explorations around Norman Island!
The Baths, Willy T (Lunch), White Bay
Or
The Baths, Cooper Island (Lunch), Norman Island
BVI Sampler- Get a true sample of the best of the British Virgin Islands in all in a day at sea! Start the morning with a scenic boat ride to Norman Island, and experience the incredible snorkeling at The Caves and The Indians. Have a wild time at lunch on Willy T's. Spend the afternoon relaxing on the secluded island of Sandy Spit, and wrap up the day with delicious cocktails by the sea at White Bay!
Norman Island, Willy T's (Lunch), Sandy Spit, White Bay
Rentals to the BVI are available as a 32ft for up to 8 passengers, 35ft for up to 12 passengers, or 44ft Rentals for up to 32 passengers.
U.S. Virgin Islands Destinations- No passports required to explore "America's Paradise" full of vibrant coral reef, uninhabited cays, and breathtaking beaches.
Buck Island- A nature preserve just off the south shore of St. Thomas known for its historic lighthouse, abundant coral, and population of endangered sea turtles, an unforgettable snorkeling experience!
Christmas Cove- A fantastic snorkeling spot off the coast of Great Saint James Island and home to the famous Pizza Pi, floating pizzeria at sea.
Trunk Bay- Part of the St. John National Park and one of the top 10 beaches in the world, Trunk Bay's soft white sand and underwater snorkeling trail is the perfect USVI beach stop.
Waterlemon Cay- This small cay off the coast of St. John is surrounded by large reef, schools of fish, abundant marine life, and unique coral, one of the best snorkeling spots in the USVI!
Lovango- Located between St. Thomas and St. John, Lovango is a relatively large cay with coral growth all along its shore. Lovango's location near open water makes it a home to rare tropical fish and marine life for one-of-a-kind snorkeling sights!
Suggested USVI Itineraries-
USVI & BVI Adventure- If you and your crew are passport-ready, experience the best of both worlds with a sampler of the US and British Virgin Islands! Begin your day with a snorkel among the abundant reef at Lovango Cay. Head over to Jost Van Dyke for a local lunch at Foxy's and an afternoon of fun in the sun at White Bay. Finish the day with an incredible snorkeling experience off the coast of St. John at Waterlemon Cay!
Lovango, Foxy's (Lunch), White Bay, Waterlemon Cay
Passport-Free USVI Sampler- No passport? No problem! Experience the highlights with your choice of top USVI spots. Begin your day from St. Thomas with a trip to Buck Island to swim with the sea turtles. Then head over to Christmas Cove for some lunch from Pizza Pi and maybe even a quick snorkel. Finish your day with some fantastic snorkeling sights around Lovango Cay and an afternoon of soaking up the sun at Trunk Bay! Or go a different route by beginning your trip in St. John with a morning snorkel at Waterlemon Cay. Take a break for some shore time and have lunch in the quaint town of Cruz Bay. Round out the trip with an afternoon of awesome snorkeling stops at Lovango and Christmas Cove!
Buck Island, Christmas Cove (Lunch), Lovango, Trunk Bay
Or
Waterlemon Cay, Cruz Bay (Lunch), Lovango, Christmas Cove
USVI rentals are available as a 32ft for up to 8 passengers, 35ft for up to 12 passengers, or 44ft Rentals for up to 32 passengers.
Enjoy one of these unforgettable rental adventures or mix and match these incredible destinations however your heart desires! Take in the sights, snorkel the reef, and raise a toast to the Caribbean Sea on your 32ft, 35ft, or 44ft Boat Rental! It's your day at sea to experience the best of the U.S. and British Virgin Islands the way you want!
Be sure to check out our blog article on St. Thomas Boat Rentals, and visit our Boat Rentals page to book the best boat rental excursions on St. Thomas! If you're interested in sport fishing during your visit, you can also visit Sport Fishing Magazine to learn more about Virgin Islands sport fishing charters, seasons and locations. If you have any questions about boat rental itineraries or any inquiries about the island, call or e-mail us for authentic local insight!
Get Hopping,
Amit
CaribbaConnect Mentioned Excursions:
32ft Powerboat Rental 1-8 Passengers
35ft Powerboat Rental 1-12 Passengers