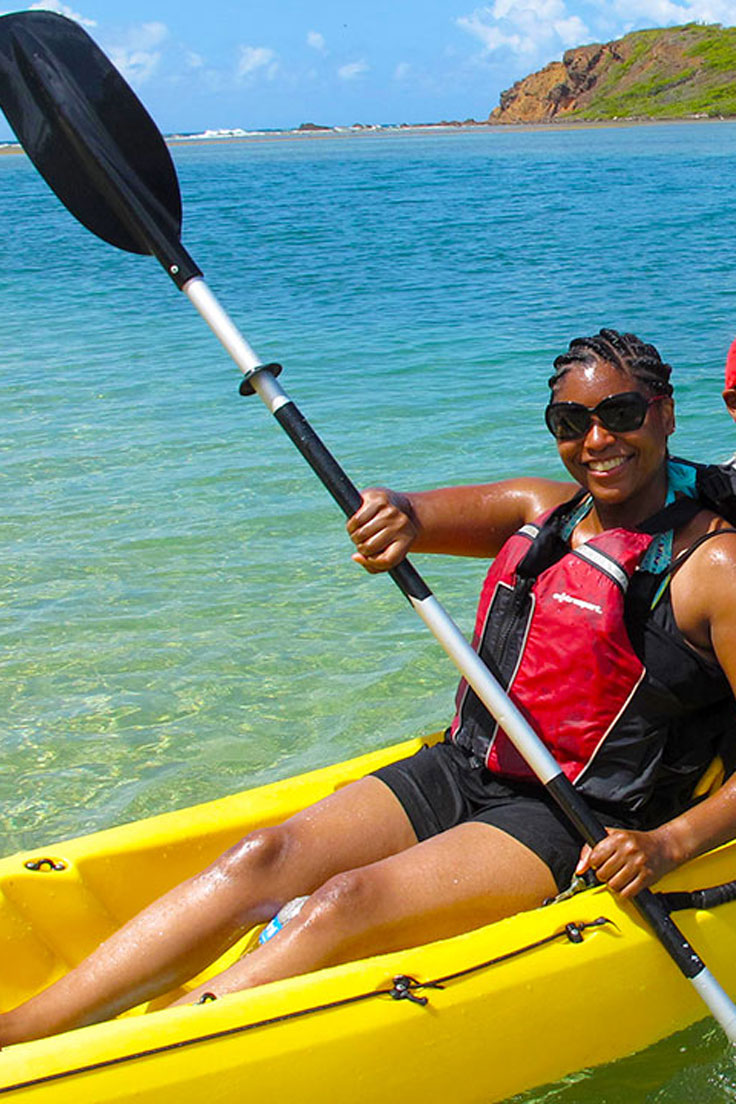 Ecotour and Lunch - St. Thomas Mangrove Lagoon and Cas Cay
Overview
This is your chance to experience a spectacular five-hour, multi-eco adventure of kayaking, hiking, and snorkeling in St. Thomas' Inner Mangrove Lagoon Sanctuary and the Island of Cas Cay. You begin by kayaking among the many small islands of the Mangrove Lagoon to Long Point and Patricia Cay. Enjoy breathtaking scenic views from the coral rubble barrier reef which divides Long Point, the southernmost tip of St. Thomas from the deserted island of Patricia Cay. Here you will find multitudes of coral and shells, as well as interesting marine life including bristle stars, sea urchins, chitons and perhaps an octopus in very shallow, clear waters. From this tranquil setting, enjoy a 10-minute paddle through romantic mangrove alleyways looking out for nesting pelicans and eagle rays swimming in the shallow waters below. Be sure to paddle slowly as you pass over the several shipwrecks en route to Cas Cay.
Upon arriving at the wildlife sanctuary of Cas Cay, a deserted tropical island consisting of 15 acres of mangrove forest to the south and volcanic cliffs to the north, enjoy a hermit crab race. You will learn about the importance of the mangrove eco-system and how to identify the various tropical plants and their edible and medicinal uses. Then enjoy a 15-minute leisurely stroll along a scenic coral and shell rubble beach. Once you reach the south side of Cas Cay, explore the incredible boulders flanked with beautiful volcanic cliffs—home to the famous Red Point Blow Hole. This spot will be your chosen place for a picnic lunch with your guide, provided by a local market.
You will hike the pristine, deserted 15-acre island of Cas Cay, which is a part of the Virgin Islands Park System. Enjoy the many breathtaking views from the coral and shell-laden beaches, and snorkel a coral-fringed mangrove nursery with an easy beach entry in the clear protected waters. After lunch, while snorkeling, you will continue to explore the waters around Cas Cay. Your guides will lead you on a 45-minute tour through a shallow marine habitat.  Explore the sea grass and mangrove nursery habitats in calm, warm and shallow waters teeming with colorful and abundant sea life. Complete your day by kayaking through the mangroves back to the marina. Guides offer snorkeling instruction, point out the marine life, and interpret the diverse mangrove ecosystem.
>> See our exclusive Insiders Experience of a similar Tour! Click here to see the insider review of the St. Thomas Mangrove Lagoon and Cas Cay Ecotour >>
TOUR VARIATIONS:
St. Thomas Mangrove Lagoon and Cas Cay Ecotours - 3 Hrs
St. Thomas Mangrove Lagoon Snorkeling and Kayaking Tour - 2.5 Hrs

SIMILAR TOURS:
St. John Eco Hiking and Snorkeling Tours - 3 Hrs
Caneel Bay St. John Kayak, Hiking, and Snorkeling Tours - 3 Hrs
Henley Cay St. John Kayaking and Snorkeling Tours - 3 Hrs
Caneel Bay and Henley Cay Ecotours with Lunch - 5 Hrs
Duration: 5 hours
Adult: $139
Child (ages 8-12): $79
Youth (2-7): $15
Highlights
Five-hour multi-eco adventure in St. Thomas' Inner Mangrove Lagoon and Cas Cay
Hiking, snorkeling, and kayaking with expert instruction and interpretation by our guides
Breathtaking, scenic views and exploration of spectacular ecosystems and uninhabited islands
Opportunities to observe and encounter marine and island flora and fauna
Picnic lunch on Cas Cay included with food and beverages provided by a local market
Snorkeling gear, kayaks, paddles, and life jackets included
Free lockers and beverages and snacks provided
Outstanding, friendly service from our professional eco guides
Important Note: Don't Wait to Book!


Tours and activities in St. Thomas and St. John fill up quickly and often weeks or months in advance.  Don't wait and miss out on the fun!  Book now to reserve your space and avoid disappointments or last-minute scrambles. If you need to cancel for any reason, we'll give you a full refund on most tours as long as you cancel at least 24 to 48 hours in advance. Check the bottom of each tour or activity description for cancellation terms. We want you to enjoy the best of our beautiful islands, so make your reservation now!


Before You Book
Bring clothing that can get wet and a hat, sunglasses, etc. for sun protection
Bring a bathing suit and towel
Bring watershoes or sandals w/ a strap around the heel recommended
Your payment is 100% refundable until 24 hours before the date and time of your departure
Cancellations within 24 hours or a failure to show up for your tour will result in a full charge for the cost of your tour
Itinerary
Departure point: Mangrove Lagoon Marina, St. Thomas, U.S. Virgin Islands (Please arrive 15 minutes prior to your tour)
Departure time: Based on your reservation
Duration: 5 hours
Return information: You will return with your guide to Mangrove Lagoon Marina, St. Thomas.
Important Information
Inclusions
Five-hour multi-eco adventure with hiking, kayaking, and snorkeling
Professional instruction and interpretation by an eco guide
All safety, snorkeling, kayaking equipment, and life jackets included
Free lockers, dressing room, and toilet facilities provided
Picnic lunch from a local market included
Beverages and snacks included
Exclusions
Gratuities for excellent service not included (15-20% recommended)
A photographer will take pictures of the tour. Entire collection of photos available on a CD for $45. Includes an additional CD with "Best of" pictures collected over the past decade.
Tour store offers:

Sunglasses: $10-20
T-shirts and wet/dry performance shirts (long and short-sleeved): $25
Water shoes: $20
Hats and caps: $15 and up
Sunscreen: $15
Sunglass straps: $5
St. Thomas refrigerator magnets: $5
Coconut shell and carved bone necklaces: $5
Shell and shark tooth necklaces: $10
St. Thomas beach towels: $20
Assorted stuffed Caribbean animals: $15 and up
Additional Info
Directions:
Our main marina is located on the southeast side of St. Thomas.
From Town:  Take route 30 East until it intersects with route 32 (also the Bridge to Nowhere/Esso Station), turn right -southeast- and we are located on the right side of the road. We're the big green trailer with the mask and snorkel on the side.
From Red Hook:  Head southwest on route 32 towards town, we are located on the left side of the road We're the big green trailer with the mask and snorkel on the side.
Cancellation Policy
Your payment is 100% refundable until 24 hours before the date and time your tour is due to depart. If you cancel your booking with less than 24 hours' notice or fail to show up for your tour, then you will not recieve a refund.