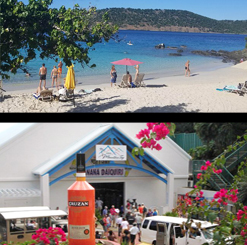 Half Day Famous Mountain Top Visit and Beach Hopping
Overview
View the island from all sides at Mountain Top—the tallest spot in St. Thomas—and take the opportunity to try a world-famous banana daiquiri. Enjoy shopping from one of the largest selections of souvenirs and trinkets to take back home with you.  Take advantage of the amazing photo opportunities you will get from this gorgeous viewpoint.
Continue the excitement with some fun beach hopping to two of the island's white sand beaches. Choose from Sapphire Beach, Coki Beach, Magen's Bay, Secret Harbour or Lindqvist Beach for your beach excursion. Enjoy sinking your toes in the soft sand, or cool off with a dip in the blue water. Snorkel among the sea life and view the colorful fish and reefs. For the more daring, rent a Jet Ski or take a parasail excursion. Soak up the sun, enjoy drinks from the local bars, or try some of the island fare at one of the beach restaurants.
If you choose Saaphire Beach or Coki Beach, on your return, you will have the opportunity to see the Red Hook area and learn more about how the locals live before returning to your starting point.
Transportation is provided via van, mini-van, SUV, or an open-air Safari bus for larger groups. All guides are licensed and certified professional drivers with extensive knowledge of the U.S. Virgin Islands.
Do not let this St. Thomas tour slip away! Book your St. Thomas Mountain Top visit and beach hopping excursion now!


>> See our exclusive Insiders Experience of a similar Tour! Click here to see the insider review of the Island Tour with Shopping and Beach Stop in St Thomas>>
SIMILAR TOURS:
Island Tour in St Thomas
Island Tour with Shopping Stop in St Thomas
Island Tour with Shopping and Beach Stop in St Thomas
Duration: 5 hours
Important Note: Don't Wait to Book!


Tours and activities in St. Thomas and St. John fill up quickly and often weeks or months in advance.  Don't wait and miss out on the fun!  Book now to reserve your space and avoid disappointments or last-minute scrambles. If you need to cancel for any reason, we'll give you a full refund on most tours as long as you cancel at least 24 to 48 hours in advance. Check the bottom of each tour or activity description for cancellation terms. We want you to enjoy the best of our beautiful islands, so make your reservation now!
Highlights

Drive along the island for panoramic views of the beaches and lush foliage
Enjoy the party atmosphere with loud music, singing and dancing
View the island from 360 degrees atop Mountain Top, the highest point in St. Thomas at 1,574 feet above sea level
Try the world famous banana daiquiri at Mountain Top
Continue your tour with a choice of two relaxing and fun white sand beaches with a stop of 1 hour and 30 minutes at each beach
Rent snorkeling gear, purchase a scuba diving trip, or rent jet skis
Parasail over the clear, blue water on any of the parasailing excursions
Relax under the beach bungalow or soak up some sun on a reclining chair
Swim and see the marine life in the warm Caribbean waters
Dine at any of the beach restaurants
Check out the Red Hook area on your return trip from Sapphire or Coki Beach to see how the locals live
Before You Book
If you are on a cruise ship, please review the Itinerary section to book the right time
If you are staying on island, you may select any available departure time
Cancellations must be made at least 48 hours in advance
Kids under 2 are free on all tours
Bring beach attire with you for quick changing
All currency is in U.S. dollars
U.S. and Canada travelers do not need a passport
There are water activities and snorkeling gear for rent at most beaches
All personal items will be secure in the vehicle while enjoying the beach
Itinerary
Departure point: Your hotel, cruise ship dock, or place of stay (by arrangement)
Departure time: 9:00 AM
Duration: 5 Hours
 
Important Information
Inclusions
A stop at Mountain Top for views of the entire island
2 Beach Stops - 1 Hour and 30 minutes of beach time at each beach from your choice of 2 beaches (Sapphire Beach, Coki Beach, Magen's Bay, Secret Harbour and Lindqvist Beach)
Transportation to and from your hotel, cruise ship or place of stay
Accommodations for cruise ship passengers
Exclusions
Gratuities not included
Beach Entrance Fees (if any - some beaches have an entrance fee of approx. $5 per person) not included

Food and drinks available for purchase on the beach

Use of Snorkelling equipment
Additional Info
All our taxis are fully certified and authorized in St. Thomas, USVI. All open-air cabs are called "Safaris" and can hold up to 25 people. We have been operating in St. Thomas for 15 years and are well known for exciting and energetic tours.
Our cruise ship accommodation features a departure at 9:00 AM and a return time of 2:00 PM to meet cruise ship schedules.
Cancellation Policy
Cancellations must be made at least 48 hours in advance for a full refund. Any cancellations made within 48 hours of your scheduled tour will receive no refund. If your ship does not arrive to port due to weather or unforeseen circumstances, contact us for a full refund. No-shows will be charged the full price. Operators reserve the right to cancel any tours with a full refund due to weather or other circumstances.